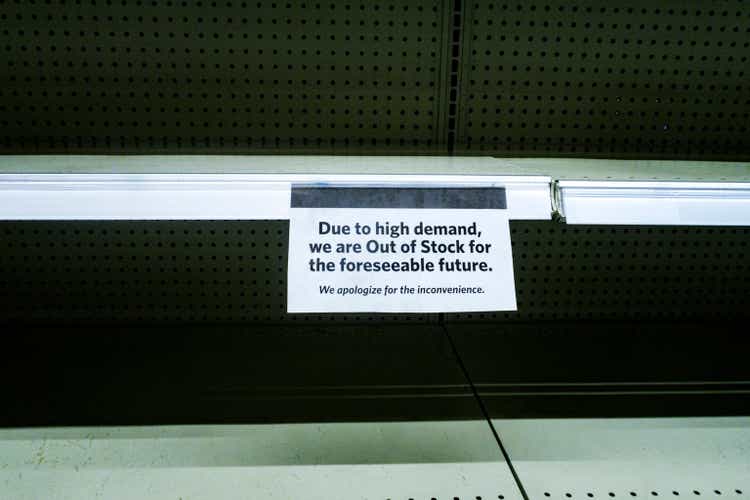 Real Estate Weekly Outlook
U.S. equity markets declined for the second-straight week as ongoing geopolitical tensions in Eastern Europe and jitters over rising rates offset a solid slate of earnings reports and housing data. U.S. officials reiterated throughout the week that a Russian invasion of Ukraine was "imminent" and would occur in the "coming days," which investors fear has the potential to drag Western nations into a serious geopolitical conflict that could exacerbate inflationary pressures and send oil prices back above $100 per barrel.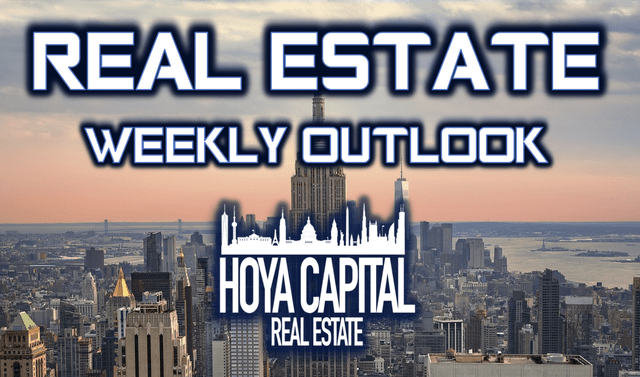 Following a similar pattern as last week with early-week gains offset by a two-day skid to end the week, the S&P 500 (SPY) finished lower by 1.4% – now sitting over 9% below its recent highs – while the tech-heavy Nasdaq 100 (QQQ) declined 1.6% and is now more than 15% below its highs. The Mid-Cap 400 and Small-Cap 600 each continued their relative outperformance, declining by 0.5% and 0.3%, respectively. Real estate equities were mixed on the week amid a busy slate of earnings results and dividend hikes as the Equity REIT Index finished lower by 1.2% with 9-of-19 property sectors in positive-territory while Mortgage REITs slipped 0.2%.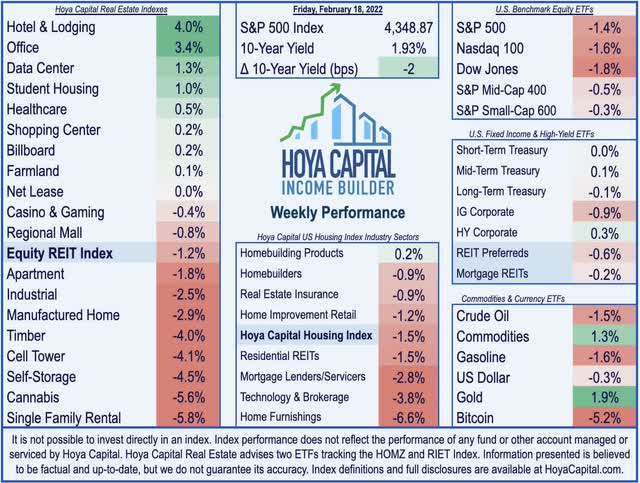 The 10-Year Treasury Yield pulled back for the second-straight week – closing the week at 1.93% – after rising to the highest level since late 2019 following the red-hot PPI inflation report earlier in the week. Ten of the eleven GICS equity sectors finished lower on the week, dragged on the downside by the red-hot Energy (XLE) sector along with a continued slump from the Communications (XLC) sector. Homebuilders and the broader Hoya Capital Housing Index were under pressure on the week despite stellar earnings results from apartment REITs and data showing that robust demand for housing continues to clash with record-low supply levels.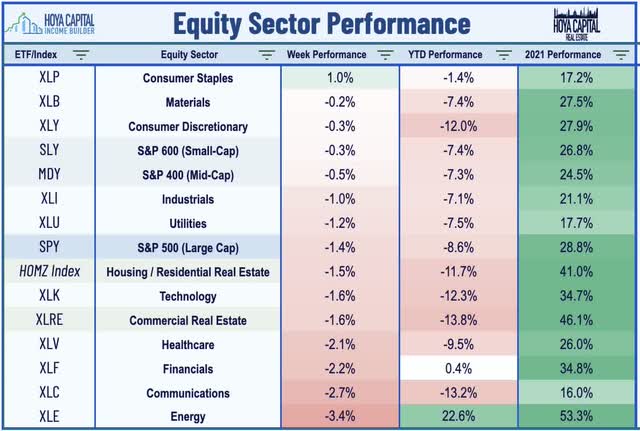 Real Estate Economic Data
Below, we recap the most important macroeconomic data points over this past week affecting the residential and commercial real estate marketplace.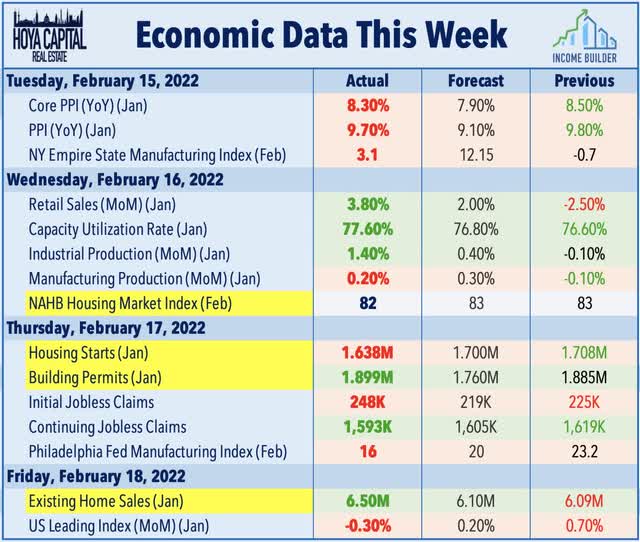 Shortages persist everywhere: the BLS reported this week that Producer Prices soared at a 9.7% annual rate in February – significantly hotter than expected – and just a tick below setting fresh record highs. Core PPI – which excludes food and energy – rose at an 8.28% annual rate – just below the upwardly revised record-high set in December. A double-edged sword, the continued upward pressure in producer inflation signals resilient demand for goods and business-to-business services but also strengthened the Federal Reserve's case for more aggressive monetary tightening, while also reflecting ongoing goods and labor shortages across many major industries.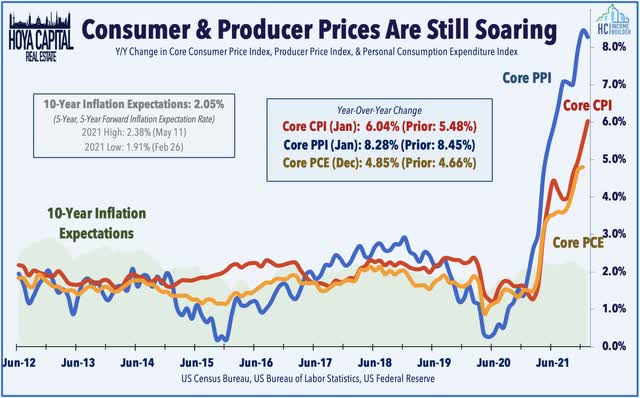 No shortage is more persistent and long-lasting than the shortage of housing in the United States. Despite historically low supply levels, Existing Home Sales in the U.S. were stronger-than-expected in January, rising 6.7% from the prior month to a seasonally adjusted annual rate of 6.5 million with home sales increasing in all regions across the country. The strong sales pace was achieved despite a historically low quantity of homes for sale as the inventory of unsold existing homes fell to a new all-time low of 860,000, which is equivalent to just 1.6 months of the monthly sales pace, also an all-time low. Last month, we published Homebuilders: Growth At Very Reasonable Prices which discussed the secular tailwinds that should continue to provide stability for the border housing sector despite rising mortgage rates.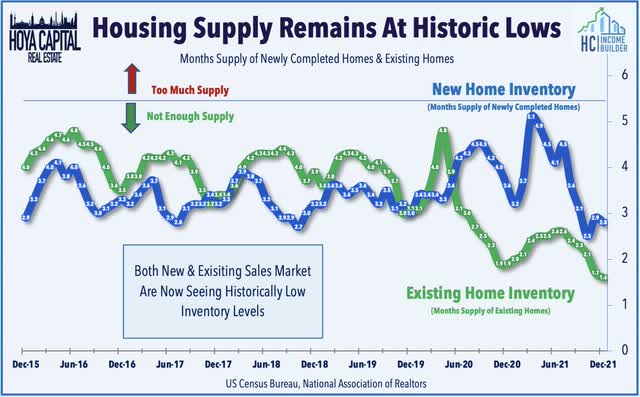 The Census Bureau also reported this week that retail sales surged nearly 4% in January – reflecting the combination of a resilient consumer and the effects of soaring inflation. Total retail sales increased 3.8% in January – ahead of the 2.1% consensus estimate – and bounced back from the 2.5% decline in December. Since the start of the pandemic, spending on housing-related items has been one of the key drivers of growth as the Building Materials category has climbed nearly 35% since the end of 2019 – including the 4.1% gain in January. Furniture sales increased 7.2% in January, outpaced only by a rebound in department store sales and a 14.5% surge in e-commerce sales.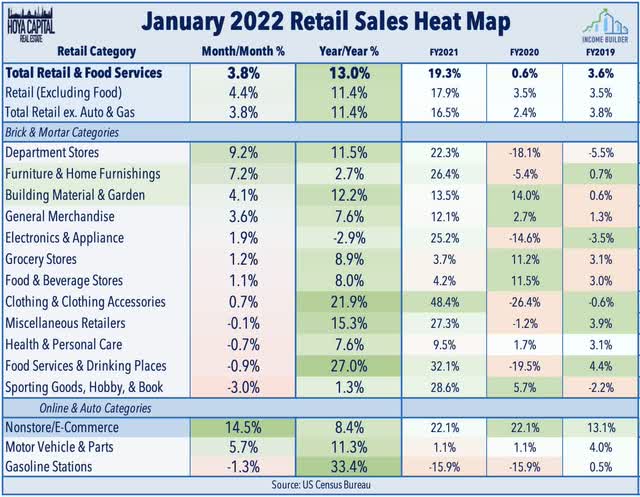 Equity REIT Week In Review
This week we published REIT Earnings Halftime Report: Buying The REIT Correction. At the halfway point of REIT earnings season, the majority of REITs are now in "correction" territory with several of the highest-flying REITs in "bear market" territory. Consistent with the trends seen across the equity market, however, REIT earnings have generally been better than expected with the vast majority of REITs topping estimates and beating their prior full-year guidance. Roughly 75% of REITs have topped consensus funds from operations ("FFO") estimates, and of the 54 REITs that provide FFO guidance, 76% eclipsed their most recent guidance.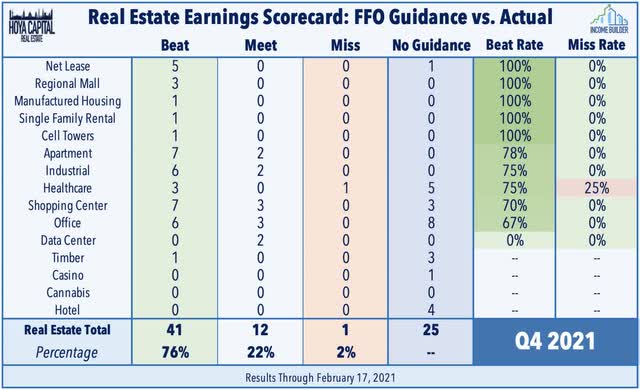 Ten equity REITs and four mortgage REITs raised their dividend this past week, bringing the full-year total to over 30 across the REIT sector. Notably, American Homes (AMH) hiked its payout by 80%, Extra Space Storage (EXR) and Acadia Realty (AKR) each announced a 20% dividend increase, Retail Opportunity (ROIC) hiked its payout by 18%, Equinix (EQIX) hiked its dividend by 8%, and Medical Properties (MPW) raised its dividend by 4%. The quick start to 2022 follows the strongest year ever for REIT dividend raises as 130 REITs raised their payouts.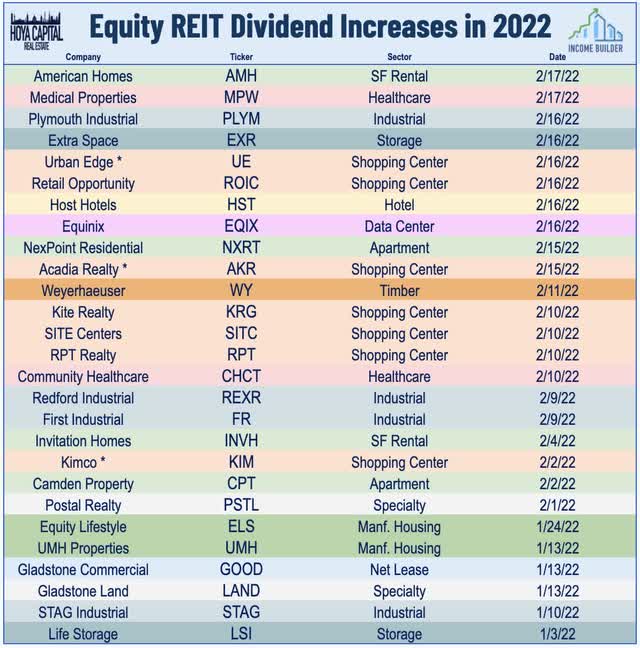 Apartment: NexPoint Residential (NXRT) rallied more than 7% on the week after reporting stellar earnings results, highlighted by an incredible 24.5% growth in new lease spreads in Q4 as apartment REITs continue to report soaring rents across essentially all segments and all national markets. NXRT reported FFO growth of 10.5% in 2021 and expects an acceleration to 22.2% growth in 2022 at the midpoint of its guidance range. Independence Realty (IRT) gained nearly 5% on the week after reporting similarly strong results as IRT delivered FFO growth of 15.1% in 2021 and sees the momentum continuing throughout the year, providing guidance calling for 21.4% FFO growth in 2022.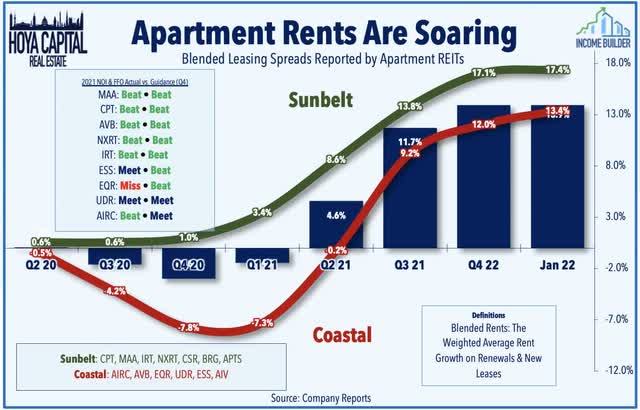 Sticking in the apartment sector, Preferred Apartment (APTS) soared 14% on the week after announcing that it will be acquired by Blackstone's (BX) Real Estate Income Trust ("BREIT") for $25.00 per share in an all-cash transaction valuing the firm at approximately $5.8 billion. The purchase price represents a premium of 39% over the Feb 9th closing stock price – the date of the initial Bloomberg article that reported the potential acquisition. The deal – which is expected to close in Q2 of 2022 – includes a 30-day go-shop period.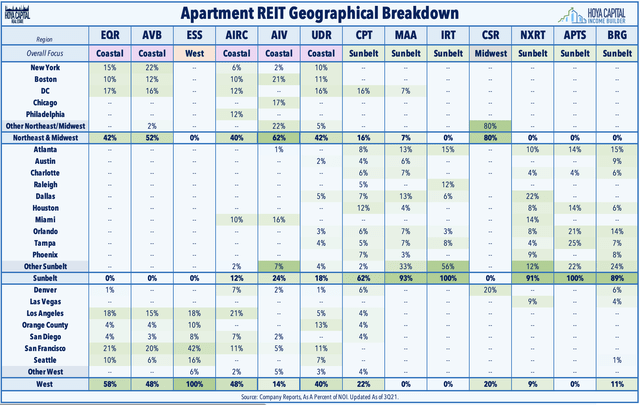 Single-Family Rental: Invitation Homes (INVH) slumped nearly 8% despite reporting strong results, highlighted by record-high blended leasing spreads of 11.1% driven by new lease growth of 17.3% and renewal spreads of 9.0%. INVH delivered FFO growth of 18.5% in 2021 and guidance calls for growth of another 11.4% in 2022. Earlier this month, INVH hiked its dividend by 29.4% to $0.22. INVH was under pressure following reports of a civil complaint filed by a man seeking whistleblower compensation from California claiming that the company failed to properly permit several of their property renovations, a seemingly trivial issue that was curiously cited by short sellers.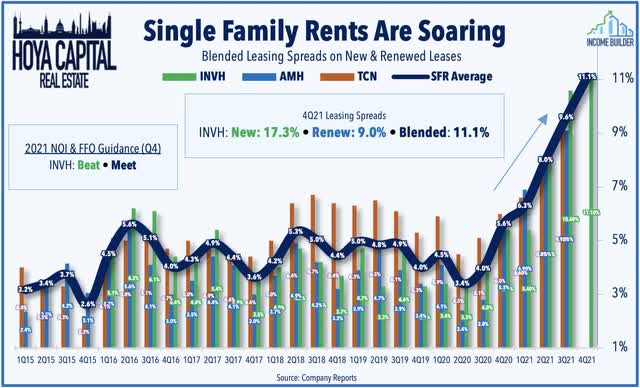 Data Center: Equinix (EQIX) gained more than 3% on the week after it reported strong results highlighted by record bookings volume and provided an upbeat outlook for continued high-single-digit FFO growth for 2022. Driven by robust 5% same-store revenue growth, EQIX delivered AFFO growth of 9.5% in 2021 and sees growth of another 7.1% at the midpoint of its 2022 guidance. Digital Realty (NYSE:DLR) slumped 1% on the week despite a record $156M of annualized bookings in Q4, but pricing power remains soft with renewal rates dipping 3.9% overall including a 14% decline in rental rates on large leases. DLR recorded 5.0% FFO growth in 2021 – consistent with its guidance – and sees growth of 4.9% at the midpoint of its initial guidance.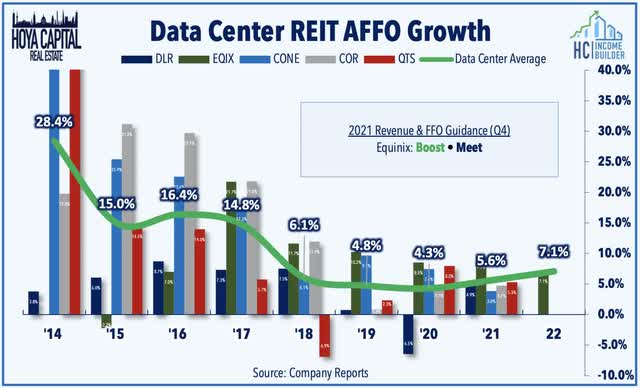 Industrial: Industrial Logistics (ILPT) gained nearly 2% on the week – the lone industrial REIT in positive territory – after it reported better-than-expected results highlighted by releasing spreads of 15% and portfolio occupancy of 99.2% at year-end as it continues to make progress in solidifying its balance sheet and upgrading its portfolio quality. ILPT noted that it expects to close on its acquisition of Monmouth Real Estate (MNR) in Q1 which the company expects will "create a stronger ILPT with enhanced scale, additional high-quality e-commerce focused mainland properties, and increased geographic and tenant diversity."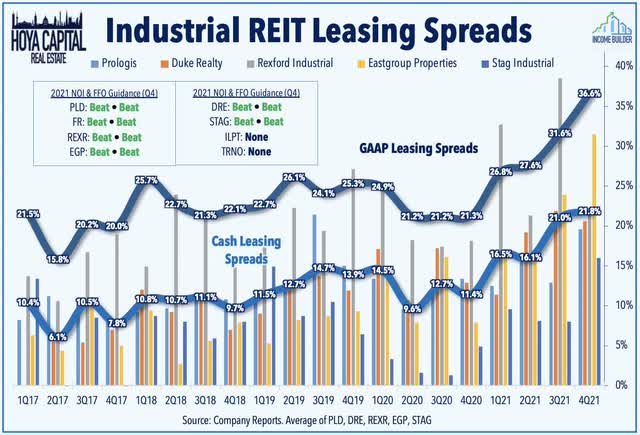 Net Lease: Spirit Realty (SRC) gained nearly 2% on the week after reporting solid results, topping consensus estimates on its Q4 AFFO, and reaffirming its 2022 AFFO and acquisitions guidance. Spirit recorded FFO growth of 12.2% in 2021 and sees growth of 7.3% in 2022. SRC continues to make significant progress upgrading its portfolio, balance sheet, and simplifying the complexity in its governance. Essential Properties (EPRT) slumped 1.5% despite reporting better-than-expected FFO growth of 18% in 2021 and projecting another 13% growth in 2022 at the midpoint of its guidance range. Elsewhere, American Finance Trust (AFIN) officially changed its name and ticker symbol to Necessity Retail REIT (RTL).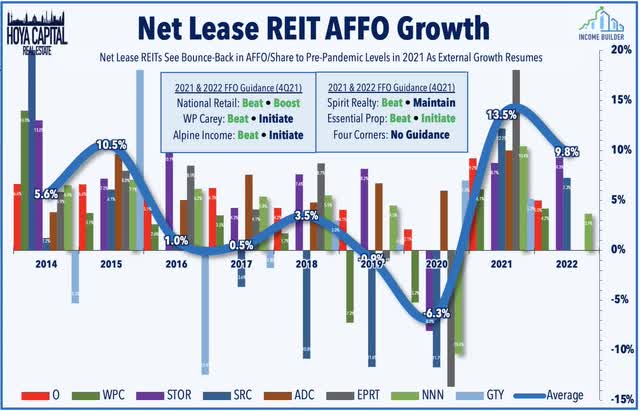 Shopping Center: Kite Realty (KRG) gained nearly 1% on the week after it reported better-than-expected results highlighted by a sector-leading 2022 FFO guidance calling for another 14.7% growth this year following the impressive 16.3% growth recorded in 2021. Citing its merger with RPAI as a catalyst, this guidance would be a 4% increase over its pre-pandemic FFO from 2019 – the strongest 2022/2019 growth rate in the sector. Acadia Realty (AKR) rallied 7% after reporting stellar renewal spreads of nearly 60% in 4Q21 as strong leasing spreads and occupancy trends across the sector indicate that these REITs have a relatively solid degree of pricing power for the first time since the mid-2010s.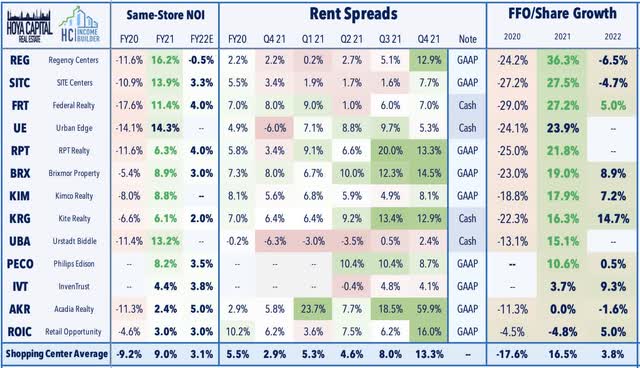 Healthcare: Senior housing REITs Welltower (WELL) and Ventas (VTR) each rallied more than 3% on the week after reporting continued improvement in their senior housing portfolios despite the Omicron surge in late 2021. WELL's Senior Housing Operating Portfolio ("SHOP") recorded spot occupancy of 77.7% as of December 31, representing a 70 basis point improvement during the quarter while its same-store revenue growth was 4.8% Y/Y. Ventas provided an upbeat outlook for its SHOP portfolio, projecting 10% revenue growth in Q1 supported by record high leads. VTR commented, "Further supported by favorable market supply demand fundamentals, we expect sustained improvement in SHOP NOI through 2022."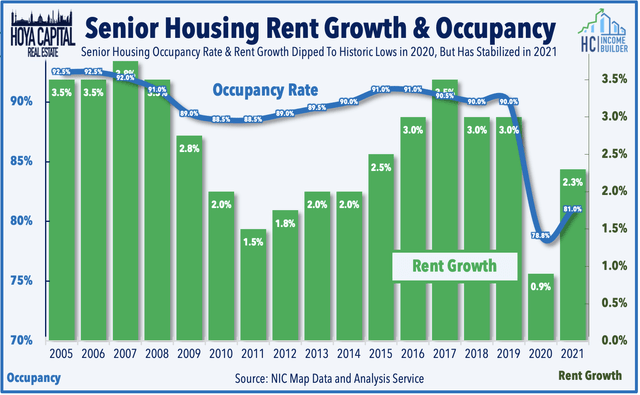 Hotel: Helped primarily from the macro rotation into more pro-cyclical sectors, hotel REITs delivered another strong week. Host Hotels (HST) rallied nearly 6% on the week after delivering decent results, citing cited strength in its Sunbelt markets and also resumed its quarterly dividend, which has been suspended since 2Q20. Hersha Hospitality (HT) gained 5% after reporting that its resort portfolio significantly outperformed its comparable pre-pandemic quarter with RevPAR that was 15% above the baseline, but its urban portfolio continued to see depressed occupancy rates and RevPAR that was still 35% below the comparable 4Q19. Encouragingly, recent TSA Checkpoint data has shown signs of reacceleration in the domestic travel recovery after an Omicron-driven slowdown.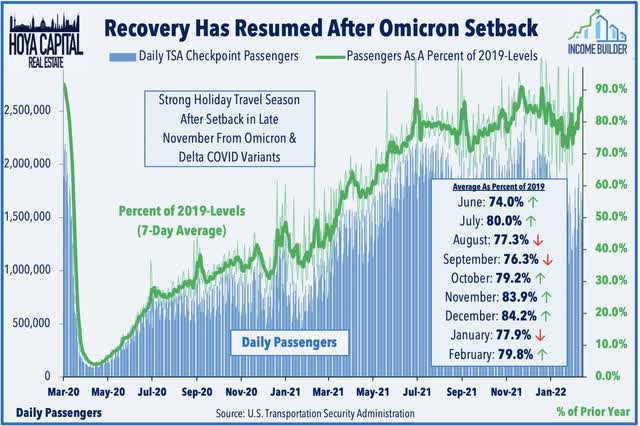 Office: Similar to the hotel sector, office REITs have also been propelled by macro-related tailwinds, but relatively solid earnings results has certainly helped as well. Vornado (VNO) rallied nearly 8% after recording FFO growth of over 9% in 2021 as it claws it way back following the steep 25% decline in FFO in 2020. Buoyed by the red-hot lab space segment and resilience in Sunbelt markets, office REITs reported average same-store NOI growth of 3.4% in 2021 and guidance calls for similarly-solid growth of 3.3% in 2022. Leasing trends continue to improve after bottoming in early 2021 with spreads remaining in the mid-single-digit range after nearly turning negative early last year. Seven REITs now expect their 2022 FFO to exceed their pre-pandemic FFO from 2019 led by Sunbelt-focused REIT Highwoods (HIW).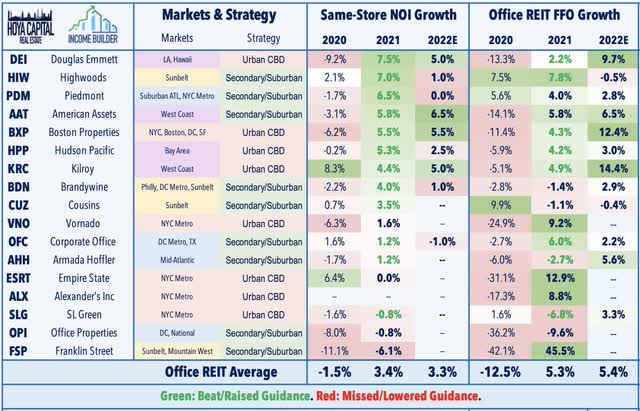 Mall: On the downside this past week, Tanger Factory Outlet (SKT) dipped 2% on the week after reporting mixed results, noting that traffic in Q4 actually exceeded 2019 levels and reported that its occupancy rate recovered back to 95% for the first time since 4Q21. Tanger's FFO rose 12.1% for the year but guidance calls for a pull-back in 2022, keeping its FFO 20% below 2019-levels. Earlier in earnings season, Simon Property (SPG) and Macerich (MAC) echoed similar trends with a strong back-half of 2021 and stabilizing occupancy rates and leasing spreads, but 2022 guidance across the sector has been softer than expected.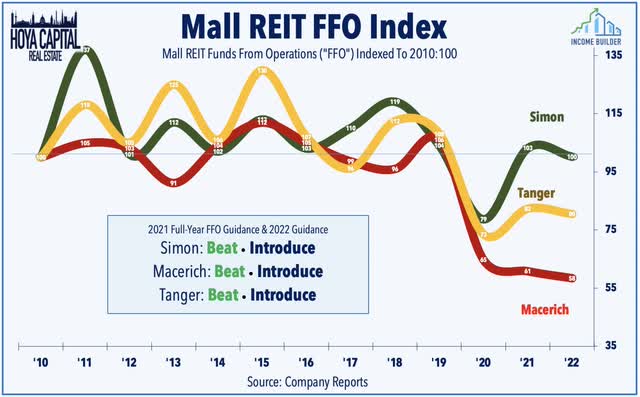 Casino: Net lease REIT Realty Income (O) slumped 1% on the week after it announced its first major move into the casino real estate business by announcing that it will acquire all of the land and real estate assets of Encore Boston Harbor from Wynn Resorts for $1.70 billion in cash, representing a 5.9% cap rate and entered into a sale leaseback transaction where Wynn Resorts will continue to operate the property. The lease will have an initial term of 30 years with one thirty-year tenant renewal option and rents will escalate at 1.75% for the first 10 years and the greater of 1.75% and the CPI increase (capped at 2.5%) over the remainder of the lease term – terms that are fairly typical across the major casino REITs: VICI Properties (VICI) and Gaming and Leisure Properties (GLPI).

We'll see results from more than 50 REITs next week. Highlights of busy slate of results will include the entire storage REIT sector – Public Storage (PSA), CubeSmart (CUBE), Life Storage (LSI), and National Storage (NYSE:NSA); manufactured housings REIT Sun Communities (SUI) and UMH Properties (UMH); net lease REITs Realty Income (O), STORE Capital (STOR), and Agree Realty (ADC), and cell tower REITs American Tower (AMT) and SBA Communications (SBAC). We'll continue to provide real-time coverage with our Earnings QuickTake posts for Hoya Capital Income Builder members and will publish follow-up articles summarizing our thoughts and analysis throughout REIT earnings season.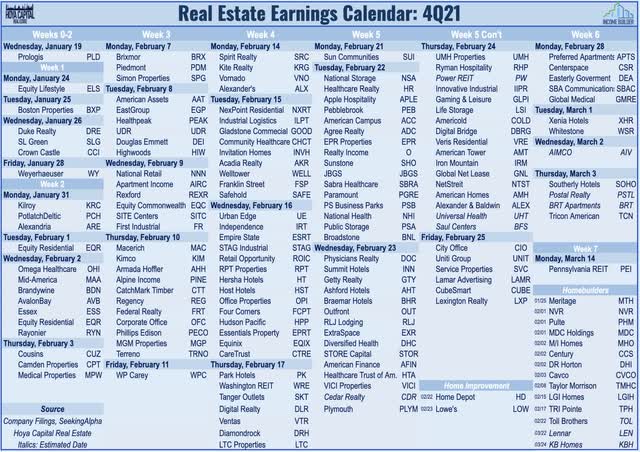 Mortgage REIT Week in Review
Mortgage REITs were mixed on a busy week of earnings reports as commercial mREITs gained 1.6% while residential mREITs slipped 1.5%. On the upside this week, Hannon Armstrong (HASI) soared more than 10% after reporting strong results including a 7% dividend increase. Ares Commercial (ACRE) gained 4% after it reported better-than-expected results, noting that its book value per share ('BVPS') rose 0.5% in Q4 and also declared a supplemental dividend of $0.02. NexPoint Real Estate (NREF) gained 2% after reporting that its BVPS increased 2% during Q4 and also raised its dividend by 5%. Arbor Realty (ABR) was also among the leaders after reporting record origination volume and boosted its dividend by 3%.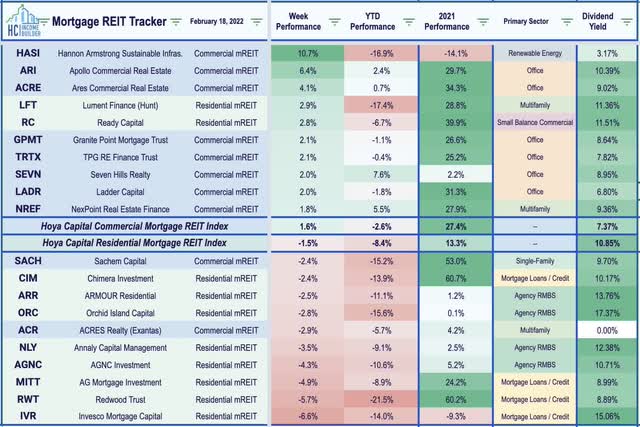 The laggards on the week included Invesco Mortgage (IVR), which dipped 6% after reporting that its BVPS declined 10% during Q4 to $2.91. Elsewhere, ARMOUR Residential (ARR) declined 2.5% on the week reporting that its BVPS declined 7% in Q4 while Chimera (CIM) also declined 2% after reporting that its BVPS declined by 4% in Q4. Highlights of next week's earnings calendar include TPG RE Finance (TRTX) on Tuesday, Orchid Island (ORC) and MFA Financial (MFA) on Wednesday, AG Mortgage Investment (MITT), and Ready Capital (RC) on Thursday, and Starwood Property (STWD) on Friday.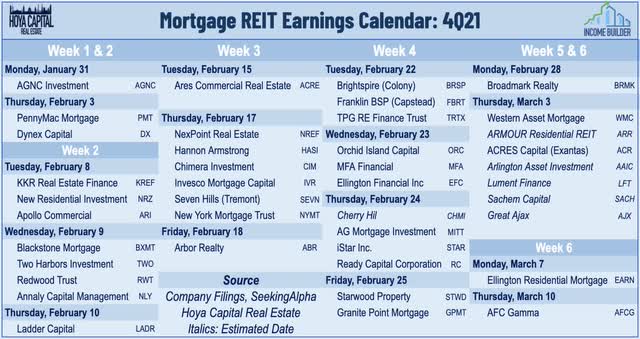 2022 Performance Check-Up & 2021 Review
Through seven weeks of 2022, Equity REITs are now lower by 12.1% this year on a price return basis while Mortgage REITs have slipped 6.3%. This compares with the 8.6% decline on the S&P 500 and the 7.3% decline on the S&P Mid-Cap 400. Dragged on the downside by the cell tower and data center sectors, 17-of-19 REIT sectors are now in negative territory for the year. At 1.93%, the 10-year Treasury yield has climbed 42 basis points since the start of the year and is 142 basis points above its all-time closing low of 0.52% in August 2020, but still 131 basis points below its 2018 peak of 3.25%.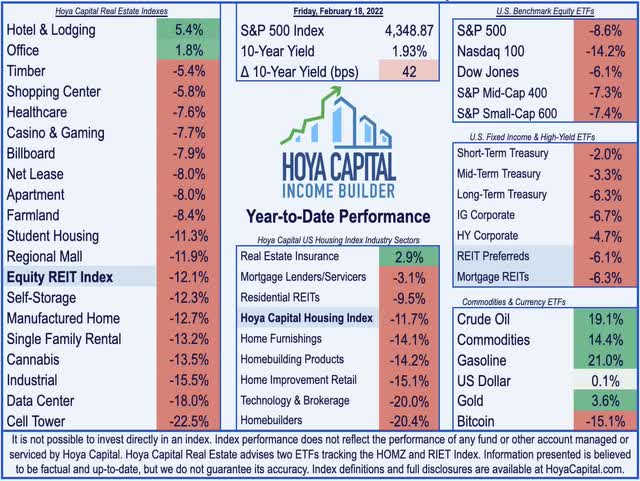 Economic Calendar In The Week Ahead
We have another frenetic week of economic data and earnings reports in the Presidents' Day-shortened week ahead, kicking off on Tuesday with the Case Shiller Home Price Index for December which is expected to show signs of moderating home price appreciation as the effects of higher mortgage rates begin to be felt. On Thursday and Friday, we'll see New Home Sales and Pending Home Sales which are both expected to show that even with the recent rise in mortgage rates and historically-low inventory levels, housing demand remains robust. On Friday, we'll see inflation data via the PCE Index which is expected to show the highest rate of consumer inflation in four decades as well as Personal Income & Spending data.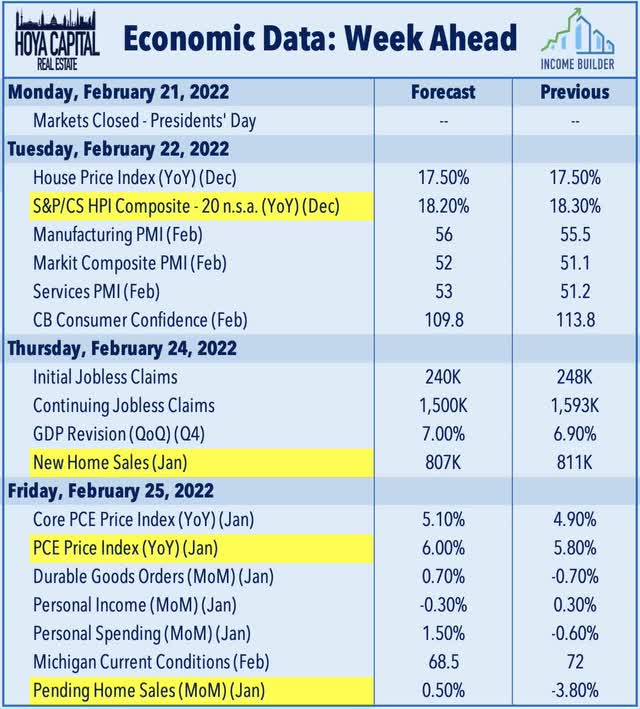 For an in-depth analysis of all real estate sectors, be sure to check out all of our quarterly reports: Apartments, Homebuilders, Manufactured Housing, Student Housing, Single-Family Rentals, Cell Towers, Casinos, Industrial, Data Center, Malls, Healthcare, Net Lease, Shopping Centers, Hotels, Billboards, Office, Storage, Timber, Prisons, and Cannabis.
Disclosure: Hoya Capital Real Estate advises two Exchange-Traded Funds listed on the NYSE. In addition to any long positions listed below, Hoya Capital is long all components in the Hoya Capital Housing 100 Index and in the Hoya Capital High Dividend Yield Index. Index definitions and a complete list of holdings are available on our website.